Wireless Stereo Bluetooth Earphone Sleep Mask Phone Headband Sleep Soft Earphones Sleeping Eye Mask Music Headset
Feature:
Bluetooth wireless stereo music eye mask ----- It can connect to the mobile phone
which support Bluetooth or has Hands free Bluetooth protocol and other portable
devices which support AVRCP. Before using stereo Bluetooth music eye mask to answer
the calls, please first finish the pairing of Bluetooth eye mask with Bluetooth
mobile phone or other Bluetooth device.

Instruction:
Long press the key for 3 seconds for switching on/off.
When powered on, it will pair with the latest paired Bluetooth device
automatically. If it is the first time to be used, the auto-pairing mode will be
activated.
After pairing with the handheld device, you can short press to pause or play when
the music is being played. In calling status, you can short press to answer the
phone, long press to refuse and quickly double click to dial the latest coming
call.
When music is being played, short press the right key for the next song, long press
for volume up; Short press the left key for previous song and long press for volume
down.
Power supply: 200mA polymer battery inside the headband, PCB panel to provide
battery with protection to keep working while charging. (Red light shows charging
and turns off when fully charged.)

Function:
1.Music Player
2.call volume adjustment
3.make and answer calls
4.the use of mobile phone keypad dialing
5.number redial to the last phone call
6.To answer incoming calls
7.Hunging up the phone
8.Reject the phone call

Package Included:
1 x Bluetooth eye mask
1 x Charging Cable
( No Retail Package)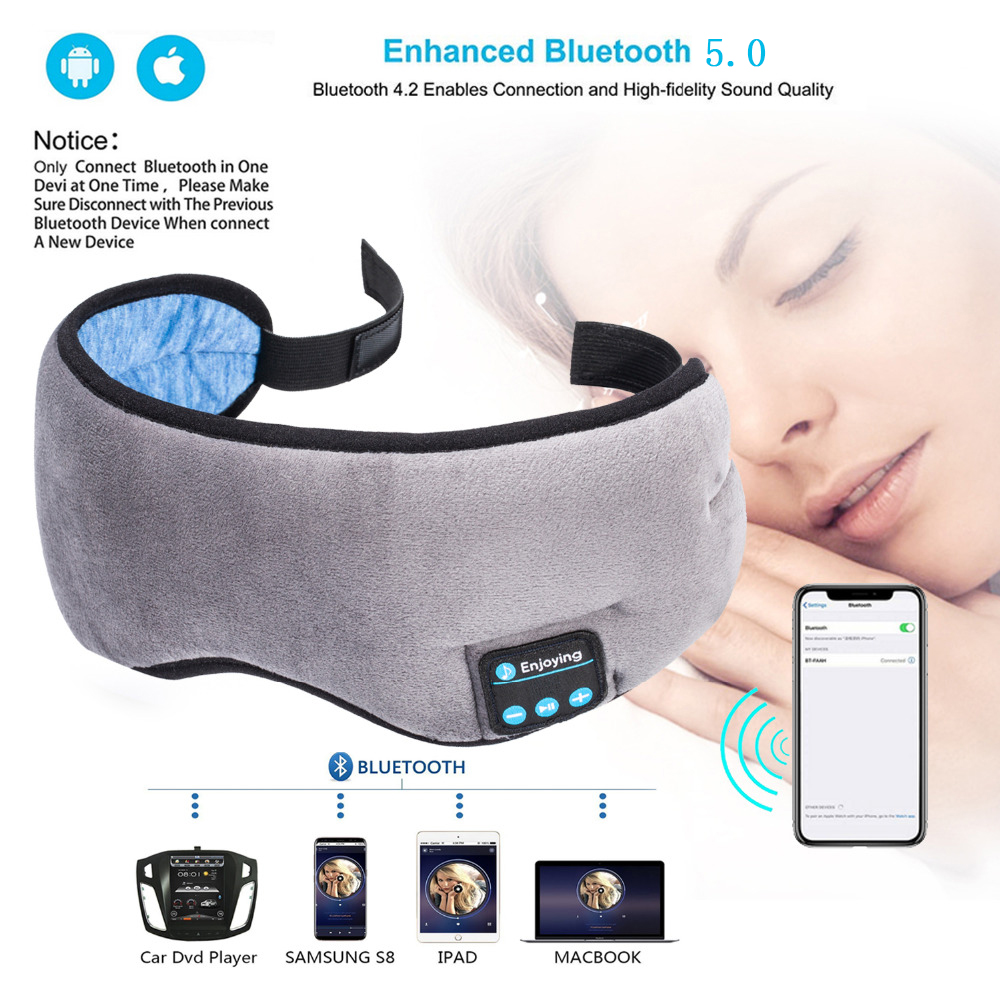 Guide and advice on finding our size
We have a 30-day return policy, which means you have 30 days after receiving your item to request a return.
More...
Safe Payment
Pay with the world's most payment methods.
Confidence
Protection covers your purchase and personal data.
Worldwide Delivery
FREE & fast shipping to over 200+ countries & regions.
Hotline
Talk to help line for your question on +66878313152
Recently Viewed Product
You can manage this section from store admin as describe in above section
Wireless Stereo Bluetooth Earphone